2023 B Team Fixtures
| Date | Home County | v | Away County | Course | Results |
| --- | --- | --- | --- | --- | --- |
| Sunday 25th June | North Wales Counties | v | Cheshire | Northop | |
| | | | | | |
| | | | | | |
| | | | | | |


2022 B Team Fixtures
| DATE | HOME COUNTY | v | AWAY COUNTY | COURSE | RESULT |
| --- | --- | --- | --- | --- | --- |
| Sunday 3rd July | Cheshire | v | Welsh Northern Counties | Upton-by-Chester | Half |
| Sunday 17th July | Lancashire | v | Cheshire | Manchester | L8.5/3.5 |
| Sunday 31st July | Yorkshire | v | Cheshire | Ganton | L3.5/1.5 |
| Sunday 25th September | Cheshire B | v | Cheshire Girls | Wirral | L2/1 |
2021 B Team Fixtures
County B Team
The County B team consists of a squad of players. Matches are played throughout the summer.
| Date | Time | Home County | v | Away County | Course | Result |
| --- | --- | --- | --- | --- | --- | --- |
| Sunday 4th July | | Welsh Northern Counties | v | Cheshire | Abergele | W3/1 |
| Sunday 18th July | | Cheshire | v | Lancashire | Delamere Forest | L4.5/7.5 |
| Sunday 15th August | | Cheshire | v | Yorkshire | Delamere Forest | L4/8 |
| Sunday 22nd August | | Cheshire | v | Cheshire Juniors | Delamere Forest | Half |
| Sunday 19th September | | Cheshire B | v | Cheshire Seniors | Wallasey | W2/1 |
2021 Match Gallery & Report
Sunday July 4th
A great win against WNC at Abergele, (3 & 1), with holes being lost by birdies to eagles! It is the 1st win against WNC since 2015. Excellent golf played in damp conditions but in an excellent spirit.

Sunday 18th July
After losing the morning foursomes 3.5 / 0.5, they came back strongly in the afternoon singles drawing the singles 4 /4.
An excellent team performance in extremely hot conditions.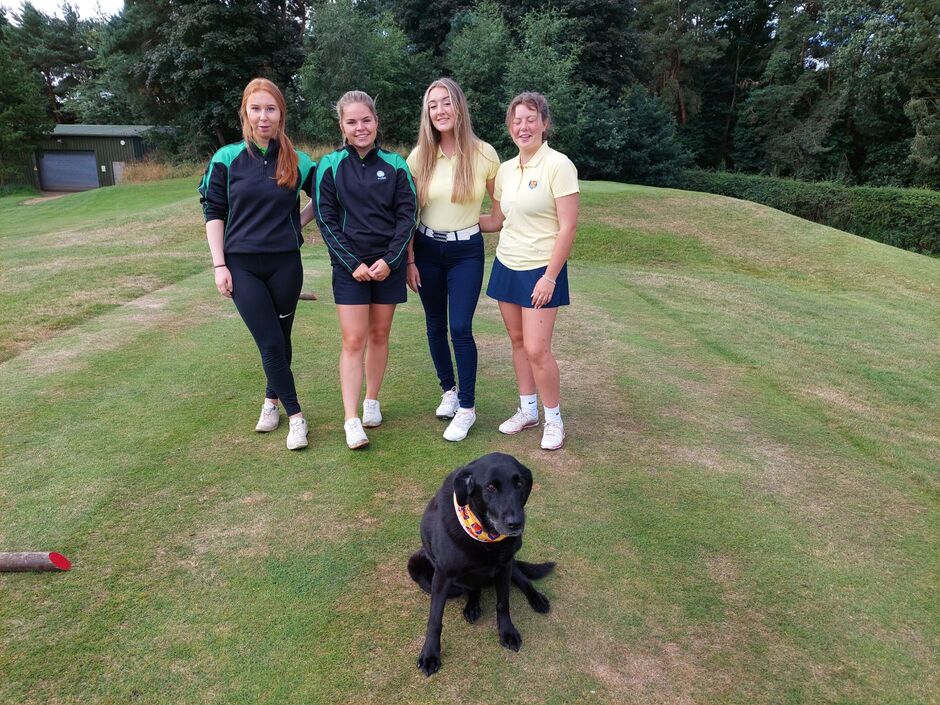 Sunday 15th August
After the morning foursomes Cheshire were up 3:1. Unfortunately the afternoon singles saw a great comeback from Yorkshire with the final result being a victory to Yorkshire by 8 matches to 4.
A very good day with all matches played in a great spirit. A great effort by the Cheshire girls with some very close matches.
(Supporting the team, Cheshire mascot black lab, Jesse, wearing her Cheshire bandana!)

Sunday 22nd August
The above match took place today with the result being a draw, 2 each. A great day, in lovely weather, with some great golf. One match having 10 birdies. A very exciting prospect for the future of Cheshire golf! Well done to all. X Jessie, the Cheshire mascot watched all the games!
Sunday 19th September
The inaugural match between the Cheshire Seniors B team and the Cheshire B team was held at Wallasey. The matches were very close. Two games were halved and the final match saw Cheshire B team winning 2&1. Some great golf was played by our future stars and the oldies performed well too.
Many thanks to Wallasey Golf Club for hosting the event. The course was in magnificent condition and the staff and members were very welcoming.
B Team Matches 2020
Cancelled
B Team Matches 2019
| Date | Home County | v | Away County | Course | Result |
| --- | --- | --- | --- | --- | --- |
| Sunday 7th July | Cheshire | v | Welsh Northern Counties | Bramhall | Half |
| Sunday 21st July | Lancashire | v | Cheshire | Childwall | L3.5/8.5 |
| Sunday 18th August | Yorkshire | v | Cheshire | Wetherby | L5/7 |
| Sunday 8th September | Cheshire | v | Cheshire Juniors | Bramhall | Half |
Picture Gallery 2019