THE CHAMPIONSHIPS
Senior Championship 2021
Jeanne Bell the county seniors' champion with Pauline Clegg.
| | | |
| --- | --- | --- |
| 2021 CHAMPION | JEANNE BELL | Royal Liverpool GC |
| Runner up | Cath Rawthore | Sale GC |
| Best Gross | Jeanne Bell | Royal Liverpool GC |


Senior Championship 2020
CHAMPIONSHIP WAS CANCELLED IN 2020 DUE TO COVID19 RESTRCTIONS.
Senior Championship 2019
Gill Mellor the county seniors' champion with Helen Heggarty.
| | | |
| --- | --- | --- |
| 2019 CHAMPION | GILL MELLOR | Prestbury Golf Club |
| Runner up | Barbara Jamieson | Heswall GC |
| Best gross | Caroline Berry | Bromborough GC |

BRITISH WOMENS SENIOR AMATEUR CHAMPIONSHIP 2021
7 /9th July, Ashridge Golf Club
Cheshire Senior Ladies Cath Rawthore, Caroline Berry, Sara Spencer and Barbara Jamieson all qualified for the final 18 holes in the above Championship. Cath finished 2nd, only losing in the playoff and Caroline was in 4th place.
Well played ladies.




English Senior Women's Stroke Play 2021
This week saw the prestigious English Senior Women's Stroke Play event held at Hayling Island. It is a 36 hole competition played over 3 days. Caroline Berry played well finishing 2nd equal with a fantastic cumulative score of 223, one over gross for the competition. The winner was Tracey Williamson from Sheringham with 220. Caroline had the best score of the final day, 3 under par. Catherine Rawthore was 5th with a score of 226. Sara Spencer sadly had to withdraw after two rounds through injury.
Congratulations, Well played !
NORTHERN CHAMPIONSHIP 2021
Cheshire led the way at the Northern County Veterans Ladies' Golf Association Championships, held this year at Bishop Auckland Golf Club near Durham.
The tournament was won by Cath Rawthore, who also took the best gross and Cheshire smashed the gross team prize taking the 1st, 3rd and 4th places in the qualifier round, a fantastic performance from Cath, Caroline Berry and Sara Spencer, respectively.
All three reached the semi-finals. Cath won on the 19th against Sara, while Caroline lost to Karen Jobling from Yorkshire. Cath then went on to defeat Karen in the final, 6 and 5.
Congratulations to the team and the Captain of the North, Barbara Laird (Cheshire) and the President, Ruth Whitehead (Cheshire).
For full details - Link to Northern website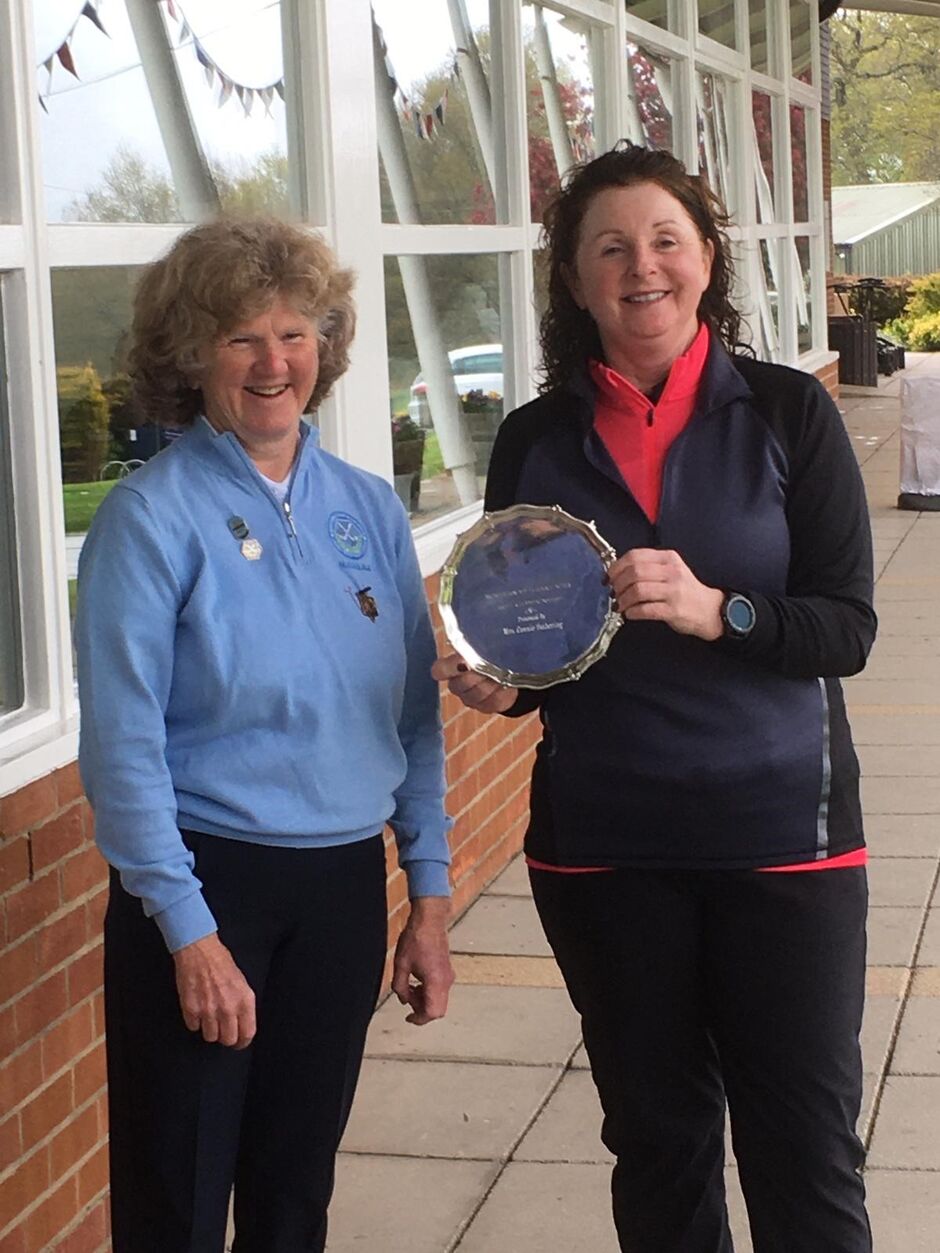 NORTHERN CHAMPIONSHIP 2019
The 2019 Northern Champion was CAROLINE BERRY of Bromborough Golf Club and Cheshire who beat MAUREEN RICHMOND also Cheshire and Royal Liverpool Golf Club, 5/4 in the final. Maureen defeated Yorkshire's Betty Sworovski 2/1 in the Semi Final and Caroline beat Cath Rawthore, Sale GC and Cheshire, 4/3 in the other semi-final.
WELL DONE TO OUR GREAT CHESHIRE PLAYERS!
Pictured holding the Northern Championship Shield is Cheshire Seniors' Captain Helen Heggarty with President Karen Schneider on the right. 2019 Winner Caroline Berry of Bromborough is between them and on the left, losing finalist Maureen Richmond (RLGC). Losing semi-finalist Cath Rawthorne of Sale makes up the successful Cheshire group.
RICHARDSON AND TEAM MATCHES
Cheshire have retained the Richardson Trophy, last competed for in 2019 and have held the trophy since 2015
Richardson Trophy Matches 2022
| | | | |
| --- | --- | --- | --- |
| CCSLGA v Cumbria | 8th June | Bromborough Golf Club | |
| Northumberland v CCSLGA | 12th July | Hexham Golf Club | |
| Durham v CCSLGA | 14th July | Darlington Golf Club | |
| Lancashire v CCSLGA | 18th July | Hesketh Golf Club | |
| CCSLGA v Yorkshire | 1st August | Bromborough Golf Club | |
Other Matches 2022
(Click on result for full match report)
| | | | |
| --- | --- | --- | --- |
| CCSLGA v North Wales Counties | 25th March | Bromborough Golf Club | W3/1 |
| CCSLGA v CCLGA "A" | 17th March | Heswall Golf Club | L3/1 |
| CCSLGA v County Senior Men | 22nd April | Bromborough Golf Club | L1.5/2.5 |
| | | | |
| | | | |
Photo Gallery 2022


Richardson Trophy Matches 2021
| | | | |
| --- | --- | --- | --- |
| Yorkshire v CCSLGA | 7th June | Oakdale Golf Club | L 4/3 |
| CCSLGA v Lancashire | 19th July | Wilmslow Golf Club | W6/1 |
| CCSLGA v Norhumberland | 26th July | Wilmslow Golf Club | W6/1 |
| CCSLGA v Durham | 23rd August | Wilmslow Golf Club | W6.5/0.5 |
| Cumbria v CCSLGA | 26th August | Silloth Golf Club | W6/1 |
| | | | |
Other Matches 2021
| | | | |
| --- | --- | --- | --- |
| CCSLGA v North Wales Counties | Cancelled due to COVID | | |
| CCSLGA v CCLGA 'A' | 11th April | Sandiway | L0/4 |
| CCSLGA v County Senior Men | 19th April | Wilmslow | L0/4 |
| CCSLGA v Cheshire Juniors | 12th September | Ringway | L1/3 |
| CCSLGA B v CCLGA B | 19th September | Wallasey | L1/2 |
Photo Gallery










Richardson Trophy Matches 2019:
| | CHESH | CUMB | DURHAM | LANCS | N'LAND | YORKS | MATCH PTS | GAME PTS |
| --- | --- | --- | --- | --- | --- | --- | --- | --- |
| CHESHIRE | x | 5 | 3.5 | 4 | 6 | 4 | 4.5 | 22.5 |
| CUMBRIA | 2 | x | 2.5 | 2 | 5.5 | 2 | 1 | 14 |
| DURHAM | 3.5 | 4.5 | x | 2.5 | 2 | 1 | 1.5 | 13.5 |
| LANCS | 3 | 5 | 4.5 | x | 6.5 | 2 | 3 | 21 |
| N'THLAND | 1 | 1.5 | 5 | 0.5 | x | 0.5 | 1 | 8.5 |
| YORKSHIRE | 3 | 5 | 6 | 5 | 6.5 | x | 4 | 25.5 |
| | | | |
| --- | --- | --- | --- |
| Northumberland v CCSLGA | 5th June 10.30am | Westerhope Golf Club | WON 1 - 6 |
| Durham v CCSLGA | 7th June 10.00am | Blackwell Grange Golf Club | HALVED 3.5 - 3.5 |
| Lancashire v CCSLGA | 5th July 10am | West Lancashire Golf Club | WON 3 - 4 |
| CCSLGA v Yorkshire | 8th July 10am | Royal Liverpool Golf Club | WON 4 - 3 |
| CCSLGA v Cumbria | 28th July 9.30am | Royal Liverpool Golf Club | WON 5 - 2 |
OTHER MATCHES
| | | |
| --- | --- | --- |
| CCSLGA v North Wales Counties | 27th March | Heswall GC - WON 4-0 |
| CCSLGA v Cheshire Senior Men | 31st March | Royal Liverpool GC - LOST 0.5 - 4.5 |
| CCSLGA v CCLGA 'A' | 7th April | Wallasey GC - WON 5 - 3 |
| CCSLGA v Cheshire Girls | 22nd September | Caldy GC LOST 2-1 |